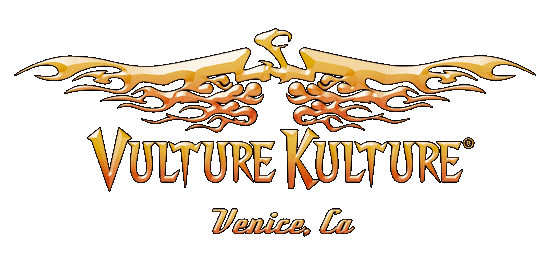 Vulture Kulture® - Metal Art with an Edge
Kustomize Your Life ™
Vulture Kulture is a lifestyle brand created by the renowned metal artist and Production Designer for the hit Discovery Channel series Monster Garage, Dan Statler.
Monster Garage became a pop culture phenomenon that changed the face of the Discovery Channel and ushered in a new genre of TV for "gearheads" that has been copied many times over. The man behind the look and feel of the garage itself was Vulture Kulture creator, Dan Statler. As well as single-handedly creating the distinctive look of the Monster Garage sets, Dan also created props, furniture, and the individually themed art pieces that appeared in 85 episodes.
Out of this wildly successful show came Dan's brand, Vulture Kulture. The Vulture Kulture look is fondly referred to as Metal Art with an Edge™. It possesses a deliberate "kustom kulture" sensibility with a modern flare, and it's wide appeal attracts a broad range of admirers from all over the world. Vulture Kulture represents the spirit of the Retro, Low Brow Art, and California Car Culture that has penetrated all aspects of today's pop culture.
Because the reaction to the look and feel of the Vulture Kulture brand has been extraordinarily positive, Dan is now offering his distinctive designs in a range of home décor and accessories, including items for the bedroom, bath, kitchen, and garage – for those consumers that want to carry the 'kulture' into their homes. Additionally, the designs have been translated into graphics for apparel and merchandise use.
Vulture Kulture is available for licensing opportunities in the following categories: Apparel, Accessories, Jewelry, Housewares, Home Décor, Automotive, Accessories, Stationery, Publishing, Jewelry, Back to School, Linens, Bedding, Novelties and Toys.
Contact Synchronicity for licensing opportunities:



Cynthia Hall Domine
Synchronicity Licensing
Tel: (207) 967-9940
http://www.synclicensing.com
For more information:

Download our Licensing Sell Sheet PDF

Fill out our contact form

Read Dan Statler's Bio

READ THE LATEST LICENSING NEWS

Vulture Kulture's licensees include: